Today I want to share a tutorial on how to make jewelry organizer with things around the house.




First let me show you why I needed an organizer. Promise me you won't judge me after I show you.
My daughter bought me this really cool jewelry box/picture frame. I really love it, but as you can see it's a total unorganized mess. I have a garbage can sitting right under it and I'm continually picking things out of the garbage. Really the problem is I have way to much jewelry! But I'd rather come up with a solution to organize it than get rid of any of it. 🙂 The bottom right hand picture is how I've lived for the last 2 months. I got sick of digging through it all and sat it on my floor and sorted the earring into pairs and left it there until I came up with a solution. The time has now come.


Let me show you what I did. I was out in our barn and saw a huge stack of window grids and I thought that that might be the perfect thing if I had my husband cut it apart and use one side. I have this place in my closet that is tall and skinny and thought it would fit there nicely. Now I had to come up with a plan on how I could get my handy hubby to cut one for me. He's not real keen on disassembling perfect good things like I am. While searching through the pile of grids I found one with 12 panes and saw that it was broke on one side and would provide me with 4 spaces. Score! He was fine with cutting up a broken one.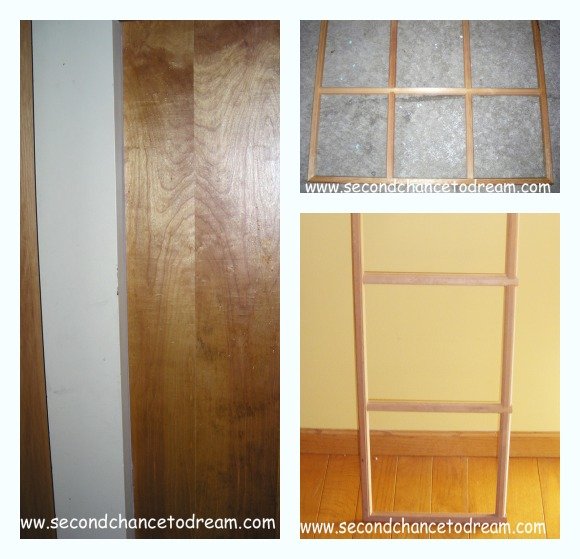 Ok, I had my place to hang it. I had the base of the organizer and now I just needed to come up with what I'd put in each grid. I thought about screening to put earrings on but didn't have any screen lying around. I remember the hardware cloth I had used on my Vertical Succulent Garden I made and knew I had some left over. That would be perfect. I knew I had some peg board and I thought that would work well for holding bracelets. I also had some cork squares. I could use those in the last two grids. I spent some time thinking about how I could hang necklaces. I had seen how some people used corsage pins but those were too big and felt too flimsy. I thought about thumbtacks but those were way to plain for me. So I kicked my mind in gear and and wondered about embellishing push pins. I went to Michael's and bought some stickered jewels and some felt flowers. I got my glue gun out and started gluing the stickers and felt flowers.
I had all my supplies around. I stapled on the wire. I used liquid nails to glue on the cork and the peg board. I then spray painted the whole things white and started adding my embellishments. I used my Silhouette and cut out blue vinyl swirls.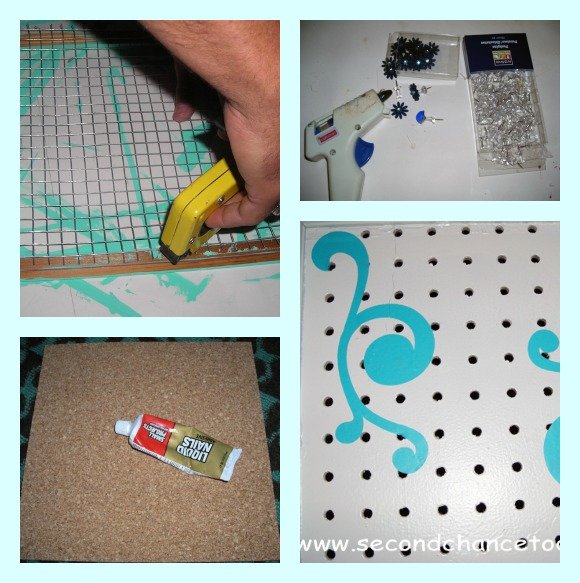 Ending up with this:
And here it is with the jewelry on it.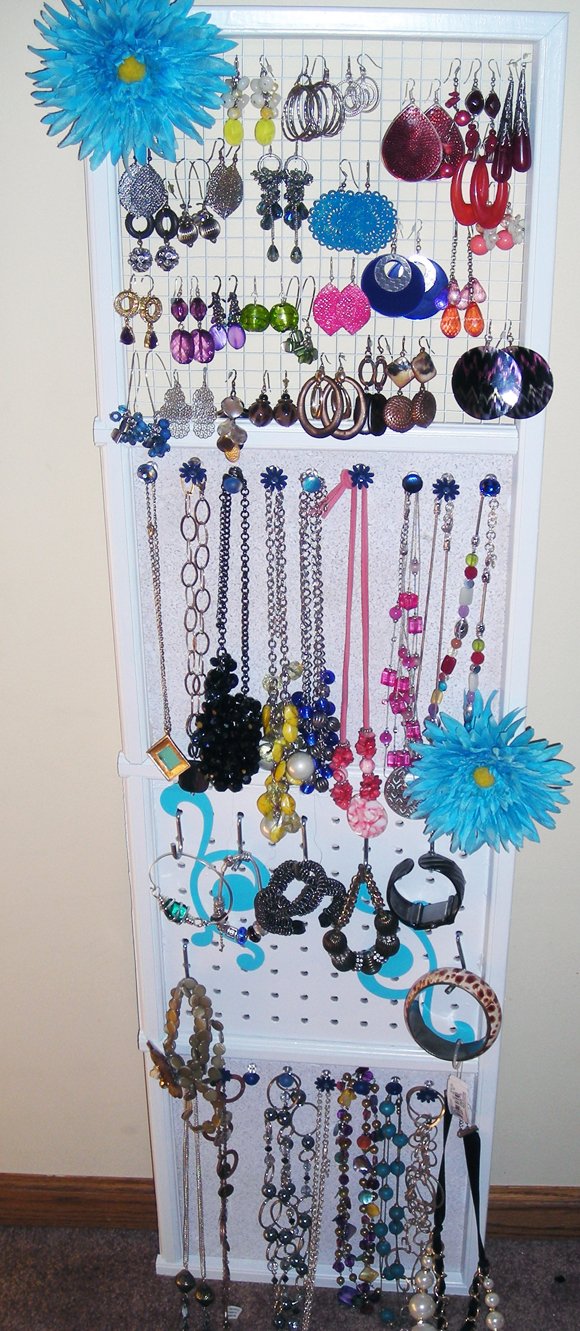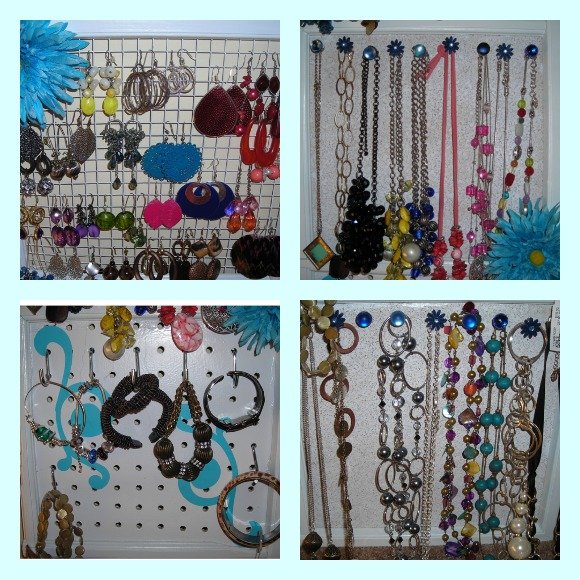 If you enjoyed this post why don't you subscribe via
Facebook
,
RSS Feed
or
Email
.
P.S. I did give some of my jewelry away to my good friends daughter. 🙂

Under the Table and Dreaming
,
Skip to my Lou,
Craft O Maniac,
Keeping it Simple,
Creating Really Awesome Free Things,
Between Naps on the Porch ,
The Girl Creative,
Mad in Crafts,
I Should Be Mopping the Floor,
Serendipity and Spice,
Booggieboard Cottage,
Sumo's Sweet Stuff,
Eye Heart,
I Gotta Try That,
Making the World Cuter,
The Dedicated House, Pinkopotamus, Don't Waste Your Homemaking, A Proverbs 31 Wife, T
he Mrs.
Sugar Bee Crafts

,
The Kurtz Corner,
Not Just a Housewife,
Claiming our Space,
Reasons to Skip the Housework,
Tip Junkie,
Today's Creative Blog

,
Crafty Confessions,
A Bowlful of Lemons,
Funky Polkadot Giraffe

,
Coastal Charm,
Krafty Kat,
Cornerstone Confessions,
Growing Home Blog, Carolyn's Homework Blog, MercyInk, Timewarp Wife
Lil'Luna, Southern Lovely, Full Circle Creations, New House New Home New Life, In the Old Road, Nutmeg Place,

The DIY Dreamer, Gingersnap Crafts

, Seven Thirty Three, Creations by Kara,

Raising Homemakers

,

Women Living Well

NY Melrose Family, Cheap Crafty Mama, JAQ Studio,

Someday Crafts, Practically Functional, Adorned From Above, Cute Everything, White Lights on Wednesday Uncommon Designs, Family Home and Life, DIY Crafty Projects
Thanks for stopping by. I'd love to have you follow along and subscribe to my RSS Feed or sign up to receive daily Emails delivered to your inbox . You can also follow along via Facebook.