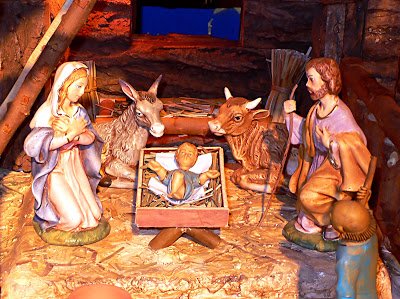 We are getting down to crunch time! 11 days before the big day and if you're like I can be, you might be slightly overwhelmed or maybe on the verge of panic. Just in my immediate family I have 14 people I plan, shop & wrap for and fill stockings for! Then I have both sets of parents and 3 siblings and cousins and girlfriends, you know how it goes. I know you know!
It seems like everywhere I go this time of year all I hear is, "are you ready for Christmas?" It doesn't matter where. If I'm at the grocery store, doctor, school, etc. It seems to be the question to ask. I ran across this poem that I thought was really good and might help us gain some perspective.
Ready For Christmas
"Ready for Christmas," she said with a sigh,
As she gave a last touch to the gifts piled high,
Then wearily sat for a moment and read,
Till soon, very soon, she was nodding her head.
Then quietly spoke a voice in her dream,
"Ready for Christmas? What do you mean?
Ready for Christmas when only last week
You wouldn't acknowledge your friend on the street.
"Ready for Christmas, while holding a grudge?
Perhaps you had better let God be the judge,
Why, how can the Christ-child come and abide
In the heart that is selfish and filled with pride?
"Ready for Christmas when only today
A beggar lad came and you turned him away
Without even a smile to show that you cared?
The little he asked — it could have been spared.
"Ready for Christmas? You've worked, it is true,
But just doing the things that you wanted to do.
Ready for Christmas? Your circle's too small –
Why, you are not ready for Christmas at all!"
She awoke with a start and a cry of despair,
"There's so little time and I've still to prepare.
O Father, forgive me, I see what You mean,
To be ready means more than a house swept clean."
Yes, more than the giving of gifts and a tree,
It's the heart swept clean that He wants to see;
A heart that is free from bitterness, sin –
Ready for Christmas — and ready for HIM.
~ Alice Haneche Mortensen
This year has been very different for me because I took my own advice in my post on Holiday expectations and I've spent more time focusing on the author of Christmas. If you're lacking the "holiday spirit" or in the middle of panic with all you have to do I suggest you STOP and take some time and spend with the author Christmas! I promise you're outlook on Christmas will change.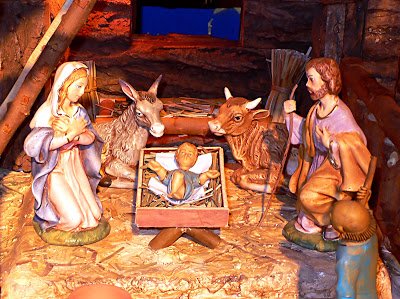 Are you ready for Christmas??

Under the Table and Dreaming, Skip to my Lou, Craft O Maniac,

Keeping it Simple, Creating Really Awesome Free Things, Between Naps on the Porch ,The Girl Creative, Mad in Crafts, I Should Be Mopping the Floor, Serendipity and Spice, Booggieboard Cottage, Sumo's Sweet Stuff, Eye Heart, I Gotta Try That,

Making the World Cuter,

The Dedicated House, Pinkopotamus, Don't Waste Your Homemaking, Ninth Street Notions, The Gunny Sack, DIY Home Sweet Home, Sew Chatty, Marvelous Messy, What Joy is Mine, A Mama's Story,The Alabaster Jar,
A Proverbs 31 Wife
,
The Better Mom
,
Covered in Grace
Sugar Bee Crafts

, Not Just a Housewife, Claiming our Space, Reasons to Skip the Housework, Tip Junkie, Today's Creative Blog

, Crafty Confessions,

A Bowlful of Lemons, Funky Polkadot Giraffe

,

Coastal Charm, Krafty Kat, Cornerstone Confessions, Growing Home Blog, Carolyn's Homework Blog, MercyInk, Timewarp Wife, House on the Way,Blackberry Vine, Adventures of a DIY Mom, New Nostalgia, Hope Studios, Tell Me Tuesday, My Girlish Whims
,
Ladybug Blessings
,
A to Z Celebrations
Lil'Luna, Southern Lovely, Full Circle Creations, New House New Home New Life, In the Old Road, Nutmeg Place,

The DIY Dreamer, Gingersnap Crafts

, Seven Thirty Three, Creations by Kara,

Raising Homemakers

,

Women Living Well

NY Melrose Family, Cheap Crafty Mama, JAQ Studio,

Someday Crafts, Practically Functional, Adorned From Above, Cute Everything, White Lights on Wednesday , Family Home and Life, DIY Crafty Projects, Simply Kierste, Fine Craft Guild, Sew Much Ado, The Trendy Treehouse, Semi Homemade Mom, Upward Not Inward, Internet Cafe Devotions, Deep Roots at Home, My Daily Walk in His Grace, The Real Housewives of Rivertown
Craft Junkie Too, Little Becky Homecky, 30 Handmade Days

,The Shabby Nest, Chic on a Shoestring, While He was Napping, Tatertots and Jello,

Craftionary, What About Co, Here Comes the Sun

One Artsy Mama, Miss Information, Blissful Bucket List, A Night Owl, See Vanessa Craft, A Delicate Construction, My Turn for Us
Thanks for stopping by. I'd love to have you follow along and subscribe to my RSS Feed or sign up to receive daily Emails delivered to your inbox . You can also follow along via Facebook.
(Visited 243 times, 1 visits today)