We LOVE to camp.  OK most of us do.  With the various ages of our children(34-13), it is an activity we can do together. There is nothing like the smell of campfires and lazy days reading and laying in your tent listening to the sounds of nature and looking at lights on other campers campsites.  Nothing like it,  I LOVE it!   We usually shoot for 3 long weekends a summer.  We have a camping trip coming up next weekend, our first of the season.  As I started thinking of meals, activities and getting things around I thought a Camping Organization & Meal Ideas post might really be a good topic.
ORGANIZATION:
I went on a search for a camping "to do" list.  I found a great list at Mean Mommy Academy.  You can go here to download it.
FOOD:
Food tastes so much better when your camping than it does at home.  Some of our very favorite meals are meals cooked in hobo pies and meals cooked in tinfoil.  Not sure if you are familiar with hobo pie irons, but below is a picture of them.  I have never seen a double pie iron, like below but one of them will be on my list of things to buy.
There are tons of different meals to cook with these items.  Some of our favorite things to cook with hobo pie irons are pizzas, Reuben's, ham and cheese, peanut butter and jelly.  For dessert, we also like cherry or apple.  I found a couple of websites that contained hobo pie iron recipes that I'd love to try. They contain recipes to use them for all 3 meals.  We haven't tried breakfast but I would like to this trip.
Another one of our favorite ways to cook is with tinfoil meals. You can check out our favorite meals in this post on Camping Meals: Foil Dinners.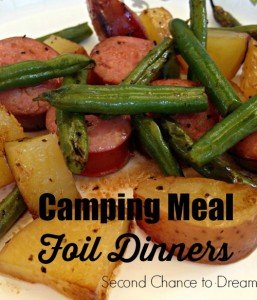 While searching I ran across these sites that contain recipes that you can make with foil.
and this site has tons and tons and tons of camping recipes.  It's from the boy scouts
Check out these other Camping Ideas:
(The above Amazon links are affiliate links)
(Visited 5,762 times, 10 visits today)