Last night I got a blog post from Beth Moore titled Sadness and Madness while watching the NCAA Championship. The title caught my attention and I immediately read it. I'm sure the title grabbing my attention had nothing to do with the way the game was being played. 🙂 Anyway, the post was about the sadness of the Warren family losing a son. There were a few things in that post that just jumped up off the page and slapped me to attention. Here is the section that grabbed me:
An odd mix of feelings overtook me with increasing force through the afternoon and into the early evening. The sadder I got, the madder I got. Mad at an astonishing satanic force that stoops viciously and swoops in unscrupulously to attack children and to prey on their weaknesses as they grow up, shooting so relentlessly at one spot that they can barely get to their feet between arrows. I've been that child and many of you have, too. Madder still that the devil in all likelihood delights in nothing more than targeting the children and dearest loved ones of true servants of God. Nothing tries our faith like the suffering of our children. At the end of the day, our faith is what the devil is after most. Without it, it's impossible to please God. This is why Paul could say with relief nearly palpable on the page of his final letter, "I have fought the good fight. I have finished the race. I have kept the faith.

At the end of the day, our faith is what the devil is after most. Without it, it's impossible to please God. These two sentences totally shook me awake. I have never seen the battle in those words. Sure I know 1 Peter 5:8 says Satan is a roaring lion seeking someone to devour and John 10:10 say that he comes to steal, kill and destroy. There are many more scriptures talking about his desire to overcome us but I've never seen it so clearly than reading that sentence.
And without faith it is impossible to please God, because anyone who comes to him must believe that he exists and that he rewards those who earnestly seek him. Heb. 11:6
He is after our faith! We need to be alert as a child of God! We need to be on the alert as mothers and wives!
And pray in the Spirit on all occasions with all kinds of prayers and requests. With this in mind, be alert and always keep on praying for all the Lord's people. Eph. 6:18

[ Be Holy ] Therefore, with minds that are alert and fully sober, set your hope on the grace to be brought to you when Jesus Christ is revealed at his coming. 1 Peter 1:13 The end of all things is near. Therefore be alert and of sober mind so that you may pray. I Peter 4:7

Be alert and of sober mind. Your enemy the devil prowls around like a roaring lion looking for someone to devour. 1 Peter 5:8

Let's be alert and fight the good fight! Our faith and the faith of our children are depending on it.
If you're like me you need things around to remember the things you are working on. So I'm sharing a printable I made to help me. Hopefully it will you too!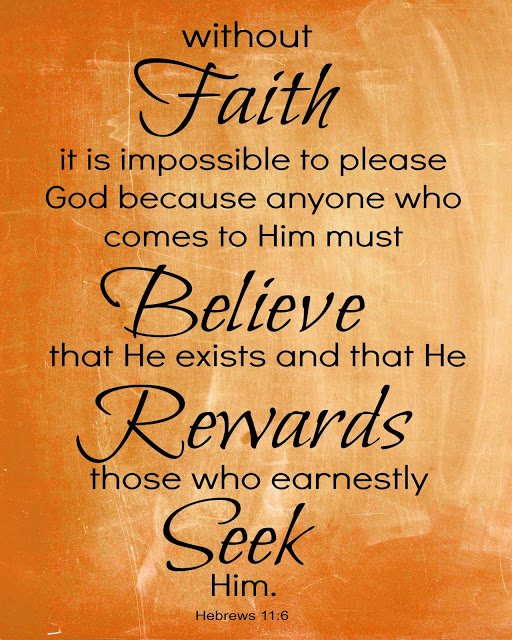 You can download the 8 x 10 Printable here:

If you need some resources for praying for your children here is a prayer calendar and prayers to go with each day.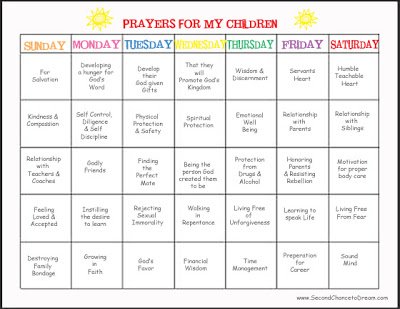 Download a copy of it
here.
Under the Table and Dreaming, Skip to my Lou, Craft O Maniac,

Keeping it Simple, Creating Really Awesome Free Things, Between Naps on the Porch

Mad in Crafts, I Should Be Mopping the Floor, Serendipity and Spice, Booggieboard Cottage, Sumo's Sweet Stuff, I Gotta Try That,

Making the World Cuter,

The Dedicated House, Pinkopotamus,, Ninth Street Notions, The Gunny Sack,, Sew Chatty, Marvelous Messy, What Joy is Mine, A Mama's Story,The Alabaster Jar,

A Proverbs 31 Wife,The Better Mom, Covered in Grace, CEO of Me, Worthy of the Prize, Huckleberry Love, Pursuit of Functional Home
Sugar Bee Crafts

, Not Just a Housewife,

,

Tip Junkie, Today's Creative Blog

, Crafty Confessions,

A Bowlful of Lemons, Funky Polkadot Giraffe

,

Coastal Charm,

Cornerstone Confessions, Growing Home Blog, Carolyn's Homework Blog, MercyInk, Timewarp Wife, House on the Way,Blackberry Vine, Adventures of a DIY Mom, New Nostalgia, Hope Studios, Tell Me Tuesday, ,Ladybug Blessings, A to Z Celebrations, The Bliss Project, Begin to Craft, Teach Me Tuesdays
Lil'Luna, Southern Lovely,

The DIY Dreamer, Gingersnap Crafts

, Seven Thirty Three, Creations by Kara,

Raising Homemakers

,

Women Living Well

NY Melrose Family, Cheap Crafty Mama, JAQ Studio,

Someday Crafts, Adorned From Above, Cute Everything, White Lights on Wednesday , Family Home and Life, DIY Crafty Projects, Fine Craft Guild, Sew Much Ado, The Trendy Treehouse, Semi Homemade Mom, Upward Not Inward, Internet Cafe Devotions, Deep Roots at Home, My Daily Walk in His Grace, The Real Housewives of Rivertown, The Well Crafted Home, Fluster Buster, My Girlish Whim, Nap Time is My Time, Off the Hook
The Thirty Sixth Avenue, House of Hepworths, 52 Mantels, Somewhat Simple, Shabby Creek Cottage, Yesterday on Tuesday,

A Glimpse Inside, Live, Laugh, Rowe,, Imparting Grace, Artsy Girl Connection, Saving 4 Six

,

Embracing Change,, Artsy Fartsy Mama, Easy Living Mom, Succulent Sisters, Designed Decor, Crafts Ala Mode
Craft Junkie Too, Little Becky Homecky, 30 Handmade Days

,The Shabby Nest, Chic on a Shoestring, While He was Napping, Tatertots and Jello,

Craftionary, What About Co,

One Artsy Mama, Miss Information , A Night Owl, See Vanessa Craft, A Delicate Construction, My Turn for Us, One Project Closer, Pinwheel Pretties, Diana Rambles: Pin Me Party, Pin it Friday, Happy Hour Projects,
Practically Functional
,
,
The Girl Creative,
Six Sister's Stuff,
Bowdabra Blog,
Cheerios and Lattes,
Funky Junk Interiors,
Young and Crafty,
Be Different, Act Normal,
S
erenity You,
Too Much Time On My Hands

,
One Creative Mommy,
Fingerprints on the Fridge, It's Overflowing, Or So She Says, Pinteresting Party, Sew-Licious, Polkadot Pretties, Sassy Little Lady, 3 Boys and a Dog Pinterest Party, Sugared Aunts, Kayla's Creations
Thanks for stopping by. I'd love to have you follow along and subscribe to my RSS Feed or sign up to receive daily Emails delivered to your inbox . You can also follow along via Facebook.
(Visited 617 times, 1 visits today)