Today I want to talk about aging.  What's your first thought when I say aging?  Do you cringe? Sometimes I think, how did I get to be age 54 already???  I don't feel more than age 30, but my skin, my body and my energy levels  are saying, "Oh yes you are"!  I'm not sure where you are at with the aging process, some of us are fighting it and some of us are aging gracefully.
Some of the best advice I've ever received on aging gracefully is from my mom.  I have heard her say through each stage of life that she has passed through, that "there is beauty to be found at every  age".  She certainly doesn't  act like she's 74.  Age hasn't slowed her down at all.
Here is a picture of my mom, myself, my daughter and my 2 granddaughters.  We got a little selfie action in at lunch this summer.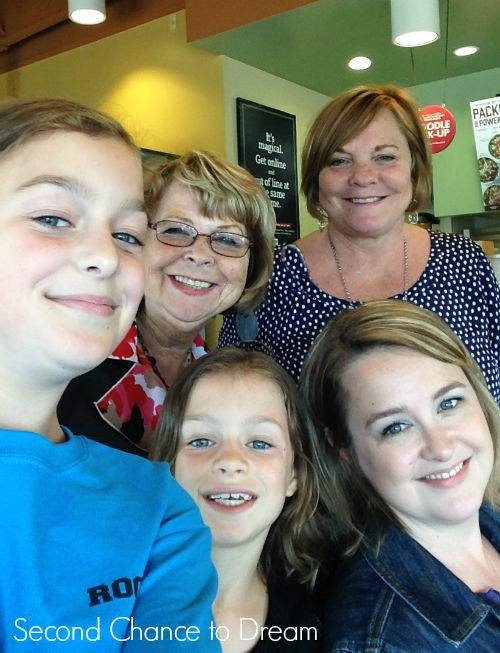 OK back to aging!  I was recently asked to try out a brand new product by Origins.  It's their new Three Part Harmony™ Oil-infused Serum and Three Part Harmony™ Nourishing Cream that is designed for women over 45.  It's designed for three things: Renewal, Repair and Radiance. Just the things women over 45 need!
Three Part Harmony™ Oil-infused Serum is made with Tazetta Lily Bulbs and Myrtle.  These two plants helps produce natural collagen.  As we age we lose collagen and that's what creates wrinkles and fine lines. This serum  helps to soften fine lines and wrinkles.  It also contains Omega-rich Crambe Oil and Scutellaira, which helps impart a healthy, vibrant glow.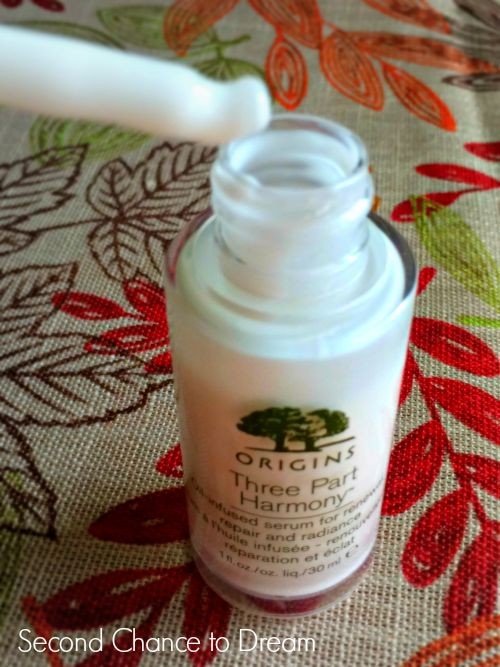 Three Part Harmony™ Nourishing Cream is also made with Tazetta Lily Bulbs, White Myrtle and Japanese Knot Weed as well as deeply nourishing plant butters plus Vitamin E. This luscious cream renews skin's hydration levels and that's just what my dry skin needs. With Scutellaria, it helps reveal radiance, refine tone and brighten skin to impart a healthy, vibrant glow.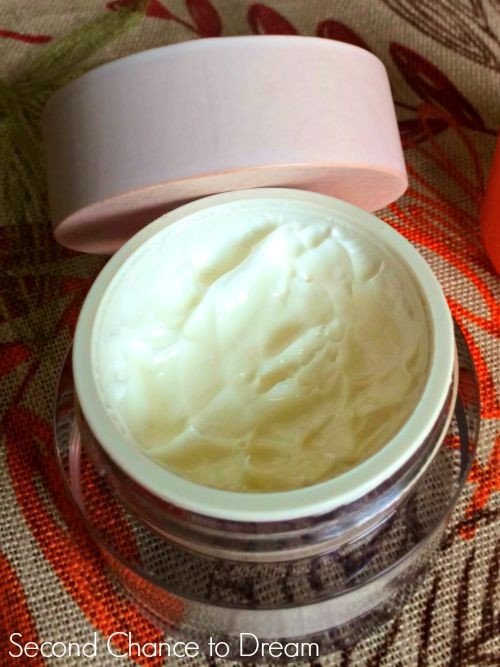 OK, here's my personal opinion on this product.  I LOVED it!  I have a really hard time finding  moisturizer that I really like.  I have very dry skin.  Menopause has helped increase the dryness. Most products I put on I feel like I need to add more with in 30 min.  My face will feel dry again. With Three Part Harmony™ Oil-infused Serum and Three Part Harmony™ Nourishing Cream I put it on and my skin feels great for a long time.
~I like it because it's thick but not greasy.  It really helps my skin feel moisturized.
~It has softened my lines and wrinkles. Especially the ones above my lip and the lines between my forehead.
~It has given me a glow. I didn't realize how dull my skin looked.
~A bonus that I didn't expect is my hands are not looking so old.  I always wipe any of what's left around my hands and they are looking and feeling much better as well.
I would say this product passes all my dry skin needs.
Aging is going to happen. We can do our part- eat right, exercise, take care of our skin. Then realize there is beauty at every age as long as we think there is.
"Age is a matter of mind over matter.  If you don't mind, it doesn't matter." Mark Twain
What is the best advice you have ever received about aging?
This is a sponsored conversation written by me on behalf of Origins. The opinions and text are all mine.
(Visited 311 times, 1 visits today)