School is back in session! Are you back into a school routine yet or are you still struggling to find your rhythm?  I like the structure of back to school but it's hard for me to be organized enough to have that supper meal ready and on the table at a certain time. Another struggle I have is school lunches.
My boys go to a charter school and at their school they do not have hot lunch program. So that means we pack a lunch every school day!   Do you know how many lunches have to be packed in a school year?  A LOT!
To save chaos in the mornings I like to make things a head and freeze.  When I saw this recipe I knew that it would be perfect for school lunches and it would be easy enough to whip up for dinner as well.  I LOVE quick & easy meal ideas, not to mention inexpensive ones.
Mini Chicken Pot Pies
A Quick & Easy Meal
To make this you will need the following ingredients:
A can of Pillsbury® Grands!® Flaky Layers refrigerated biscuits
1 can of cream of chicken soup
2 cups of frozen mixed vegetables
 Take each of your biscuits, flatten them and put in your sprayed muffin tins.
Take your 2 cups of vegetables, your can of cooked chicken and your cream of chicken soup and mix them together.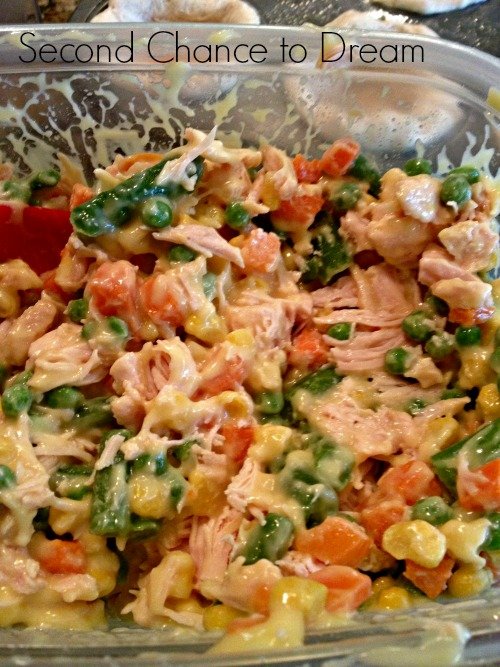 Add your chicken veggie mix to each of the biscuits that you flattened.  I used approximately 2 heaping tablespoons. A great addition to this would be some shredded cheese.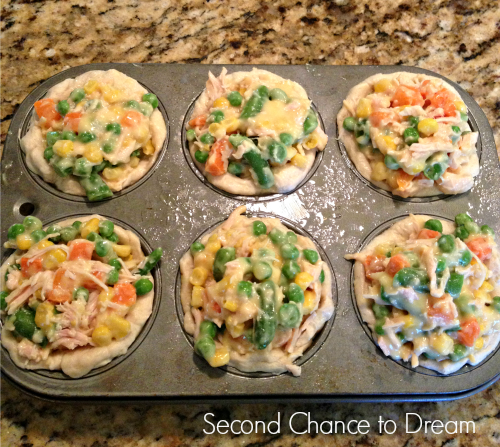 Bake at 375 for 20 minutes until you biscuits are golden brown.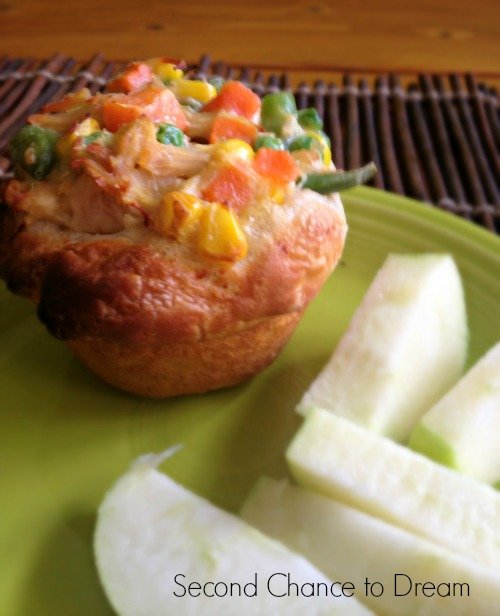 Take out of oven and serve with a side dish and you have your meal.  Or if you're like me, make a double batch and freeze each one in an individual baggie and put in the freezer for school lunches. Just grab and go!
I altered my recipe slightly.  You can find the original recipe here. If you need more quick and easy recipes make sure you check out Pillsbury's online cookbook.  You can find it
here.
You can find Pillsbury's website here.
I was selected for this opportunity as a member of Clever Girls Collective. The content and opinions expressed here are all my own and are not indicative of the opinions or positions of General Mills. Compensation was provided by General Mills via Clever Girls Collective.
Do you have any favorite Pillsbury recipes your family loves?  Are their any you'd like to try?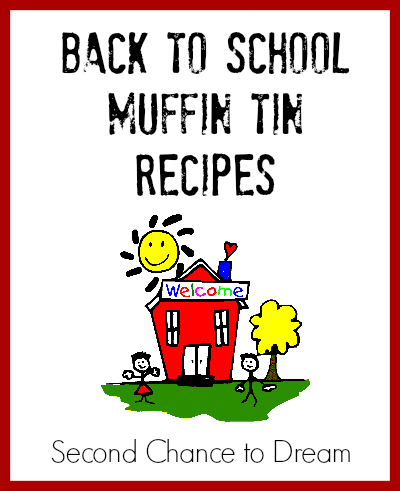 Here is another one of my Quick & Easy meals.  BBQ Chicken Pizza!  Yummy!
(Visited 34,945 times, 45 visits today)