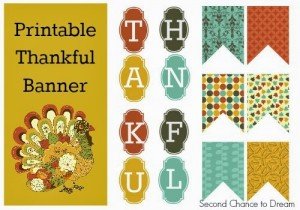 Hi Everyone!!  How was your Halloween?  We had record breaking rain yesterday BUT it was 60 in Traverse City MI (that's unheard of for MI) so we won't complain too much.  We actually had a great time taking little man Trick or Treating.  That was a real treat.  Anyway, my Halloween is coming down today.  I'm redoing my mantel for Thanksgiving.  I wanted to share with you the printable banner I made.  It coordinates with my other Printables I made.  All you need to do is print, cut and attach to ribbon, twine  or fabric with glue or mini clothes pins.  I'll share a picture of mine when I'm done.
Have a wonderful weekend!
Thanks for stopping by. I'd love to have you follow along and subscribe to my RSS Feed or sign up to receive daily Emails delivered to your inbox . You can also follow along via Facebook.