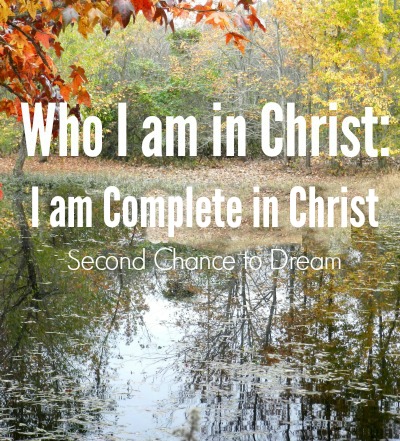 It's time for another lesson in our Freedom in Christ study. This week we are focusing on I am Complete in Christ.
Col. 2:9-10 For in Him all the fullness of Deity dwells in bodily form, and  in Him you have been made complete, and He is the head over all rule and authority. NASB
What does complete really mean?
Webster dictionary defines complete as:
com·plete   adjective \kəm-ˈplēt\
 having all necessary parts : not lacking anything
 not limited in any way
 not requiring more work : entirely done or completed
 fully carried out :  thorough <a complete renovation>
In the verse listed above we see the fullness of God lives in Jesus so if the fullness of God is in Christ and Christ is in us then the fullness of God lives in us!!  Not just a trickle not just a sprinkle but the fullness of God
I am complete in Christ!
Complete is a nautical term that means fully equipped
A fully equipped boat with everything ready to set sail.
Do you know that we have everything we need for the journey of life? God didn't just save us and then say go figure it out. He has equipped us with everything we need.
2 Peter 1:3 His divine power has given us everything we need for a godly life through our knowledge of him who called us by his own glory and goodness.
If we need peace for the journey we have that if we need strength for the journey we have that.  If you need joy for the journey it's there. If you need direction for the journey it's there
Paul warns the Colossians that they are looking for other things to fill them besides Christ.   He's warning them you are about to be imprisoned. Stop don't buy into the lies. Colossians believed that Jesus plus something equaled completeness
They believed that Jesus plus obeying the law equaled completeness.
Do you think we look for anything to complete us? What are some of the things we add to complete us?
When we add a little bit of something to Christ all the sudden the fullness of Christ in us is diluted down.  We start thinking about the other thing more than we think about Jesus.  We become a slave to the things we are mixing in. It becomes an idol.
An Idol is anything that gets more attention in our heart than God
A good way to find out if we have idols  is to think about what you think about.  What thoughts are dominating your mind?
Is it comfort, safety, Money?
Where does our identity come from Jesus plus nice stuff?
Jesus plus money
Jesus plus security
Jesus plus?
Is it Jesus plus human approval= a complete life? For me this is where I can get hung up. Teaching for me is HARD.  One huge thing I learned from Drew's accident is you do not look at your surroundings you keep your eyes fixed on me.  So every single week when I a m done teaching I go into Oh my goodness I can't believe I said that, blah blah blah and he taps me on the shoulder and says what do I think Barb?  Keep your eyes on me and me only.
Jesus Plus nothing equal s a deep meaningful life.
How do we get rid of the idols?  We recognize we have them.  We confess them and repent and renounce.
Then we live in a place where we are receiving the love of God.  We're living lives marks by prayer, we're living lives where we're seeking Him out, and we're living lives where we are being renewed in our minds. When we soak in the love of Jesus the idols will drop off.
When God looks at us He sees a completed masterpiece. Let's go live that way!
Life Work:
Ask God where in your life is it Jesus + __________________?  (Jesus + my husband, Jesus + money, Jesus + people's approval, etc.)  Write down what he shows you.
Is there an area in your life that you feel inadequate or incomplete?  Confess those to God and ask Jesus to redeem (buy back) those areas in your life.
Write on 3×5 cards the Col. 2:9-10 scripture, as well as 2 Pet. 1:3, and read them aloud every day. Personalize them with your name.  For example:
Col. 2:9-10 For in Him all the fullness of Deity dwells in bodily form and in Him Barb, you have been made complete, and He is the head over all rule and authority. NASB
Extra credit life work:  Go to YouTube and look up the song "Redeemed" by Big Daddy Weave.  Look at the lyrics while you are listening to it.
If you'd like to follow along in this series you can find the rest here:
Who I am in Christ: I am redeemed
 Who I am in Christ: I am a Member of the Body of Christ
Who I am in Christ: I am God's Child
Who I am in Christ:  I am Christ's Friend
Who I am in Christ:  I am Justified
Who I am in Christ:  I am a Saint
I'd love to have you follow along and catch the rest of this series. You can subscribe to my RSS Feed or sign up to receive daily Emails delivered to your inbox . You can also follow along viaFacebook, Google + or .Twitter.
I link up to the following Link Parities:
It's Overflowing
, 
DIY Showoff
,  
Titi Crafty
,
The Girl Creative
,
Interior Frugalista
/
Under the Table and Dreaming
, 
Skip to my Lou
, ,
Keeping it Simple
, 
Between Naps on the Porch
,
 Thrifty Decor Chick
,
I Should Be Mopping the Floor
,
Craft
,
The Hankful House
// 
Tip Junkie
, 
Sugar Bee Crafts 
, 
Not Just a Housewife
A Bowlful of Lemons
,
Coastal Charm
, 
Growing Home Blog
, 
Timewarp Wife
,  
New Nostalgia
, 
Yesterday on Tuesday
, 
The Gunny Sack
///
Inspiration Exchange
, 
The DIY Dreamer
, 
Gingersnap Crafts

 
, 
We are that Family,
Raising Homemakers

 
,
Women Living Well
NY Melrose Family
,  
Someday Crafts
Family Home and Life
, 
Life with the Crust Off
,
Crystal & Comp,
Live, Laugh, Rowe
, 
Imparting Grace
,  
Saving 4 Six
,, 
Artsy Fartsy Mama
, / 
The Shabby Nest, 
Chic on a Shoestring,
Craft O M
aniac
, 
One Project Closer
,
The Best Recipes Blog
, 
Filled Fridays
,
The
Thirty Sixth Avenue
,
Six
. 
Link Party Palooza
//
 Sister's Stuff
, 
Bowdabra Blog
, 
Cheerios and Lattes
, 
Funky Junk Interiors
,
Be Different, Act Normal
, Too Much Time On My Hands, 
Made From Pinterest